A random collection of objects and subject I am interested in… or as my wife
would say obsessed with !!
About me
Carl aka MW0TBB / KC2ZIL
Well here is where you get to find out a little more about me.




I have always been a gadget person for as long as I can remember, if it was cool and gimmicky I will have had it at some time and things have not changed as I have got older no doubt my wife would confirm that happily to anyone.
In my working career I have worked in a steel works and since 1986 in various electronics manufacturing facilities in the north west in various management roles to the present time working for one of the UK's biggest fire performance cable and security product manufacturers.
I am also very interested in as things to do with computers, I have an extensive home network and have run various operating systems including CPM, Linux, FreeBsd and the obligatory flavours of Microsoft Windows from version 2.0 right through to Windows 8.1
As you will have gathered by now, if it has anything to do with radio, electronics, or machinery I will be interested and a few years ago with my mate Ian Rotheram M0ODD and his father Frank Rotheram who owns our company, we built a robot and entered RobotWars the BBC TV program. so that is my claim to fame
Robot Wars
Early in 1999 a brief conversation took place during coffee before we started work, about a new television program on BBC 2 the night before. The Program was Robot Wars, Frank asked enthusiastically if anyone had watched it? We were all big kids at heart of course we watched it and little did we realise the conversation would be the start of several years' of excitement and hard work for a few of us.
Frank suggested that we give it a go ourselves as it looked like fun! So Ian sent off for the application forms and we started hanging around after work talking about different designs we had seen on the shows, trying to come up with a design for our robot. We talked about getting parts together for it and Frank said he would start making a chassis for it. At first the robot was a tubular box frame with four wheels and two motors, it was controlled by Vantec electronics in what looked like a heavy duty biscuit tin.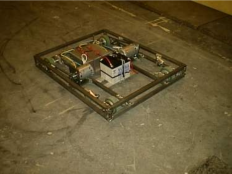 The speed controller came from the U.S.A. as a result of Ian's research and in those early days my soldering skills would be called upon many times as we blew it up frequently. The May bank holiday weekend 1999 approached as did the first of our auditions, but we needed a name for our robot, all the really good ones had been used like Razor, DrillaKilla, Chaos II, so we had to think really hard to get a good name that would express what our robot was all about.... Andy Groves came up with it "DEREK" and to this day we don't know why and probably never will.
So DEREK and his merry band of supporters found their way down to the outskirts of London for our first audition, it performed reasonably well destroying breeze block walls and running up and down ramps but the organisers told us to go home and finish DEREK off and put some body armour on it as all it was at that time was an open box. So what did we do? - well we went to the pub of course.... after some well deserved refreshments we decided to head home and redesign it but before we left the pub Andy Groves wanted a go driving DEREK and against Ian's better judgment he had a go.
I can still see it now, the pub landlord was having a quiet pint out on the veranda overlooking the car park and Andy let rip with DEREK..... There was a bang and a little mini metro that was sitting there minding its own business took a whack to one of it's wheels and nearly rolled into the next car, it's tyre just ballooned up into an egg shape and everyone except me and ANDY legged it to their car's. It was left to me and Andy to pick up this lump of steel, rubber and batteries and throw it into the back of Andy's Land rover Discovery and escape. I don't know what the landlord of the pub thought was happening but we did not give him chance to find out.
DEREK developed over the next few months and we had many hours of fun with it, believe it or not this little robot could easily pull Andy's Land rover Discovery, I still have the video footage to prove it. We did not pursue auditions any further that year as we were moving into our new factory. The next series soon approached we decided to go for it and see if we could get through the auditions which were being held at the MEN Arena in Manchester.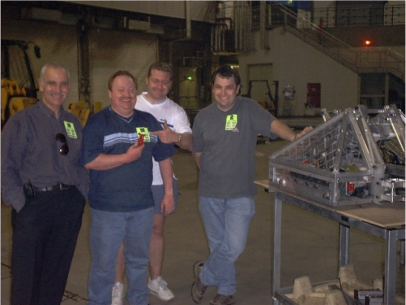 Team Derek
Frank, Carl, Andy, & Ian.
In Manchester we fought Bulldog Breed and lost , our battery connector link jumped out and we lost all power almost straight away. The Robot Wars directors decided because of how good DEREK looked and because if it did perform correctly they would have the prospect of a great battle to show, to ask us to be in a live show at Sheffield Arena the following week at this Event Derek defeated the mighty Drillakilla . We rushed back to and started work straight away on modifying DEREK into something special for the next event in Nottingham.
We were supported by some of our suppliers on little bit's and pieces but as DEREK was Ventcroft's baby so to speak Frank kindly agreed a budget for it so away we went to further develop Derek's electronics and attack and defence mechanisms. Frank also put many hours of work into the chassis design, sometimes working late into the night.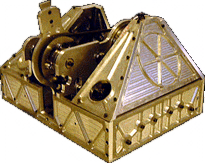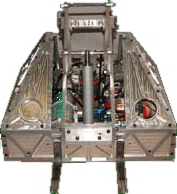 At the Nottingham shows which were filmed for TV broadcast Derek did not get very far in the competition but we took great pride later that year when Derek was given the 'Best Engineered Robot Award' for the series final competition, which said something about the quality of our work which we carry through into our professional life.
We had the opportunity to meet Craig Charles of Red Dwarf and currently Coronation Street fame and the lovely Philipa Forester, during one series of recordings I was on holiday and unavailable so Ian got a cardboard cut-out version of me made to take with them to the recording. The cut-out was kidnapped by an Italian TV presenter I believe for some sumo wrestling bouts but he later gave us it back, I must have been too tough for him…. It is in retirement now in my granddaughter's attic playroom and Derek has kindly donated some of its parts to many pieces of our production equipment over the years
ARRL Licence
Sometimes I get persuaded to do some strange things and 10/10/10 will always stay with me as a memorable date as I was persuaded to head down to the RSGB Convention 2010 to listen to a lecture by Ian Wade, G3NRW about the AIM4170 antenna analyser with my mate Ian M0ODD and also to take the ARRL technician class exam in the walk-in exam centre.
I was in the middle of studying for my intermediate course at the time and had not time at all to prepare for this but I thought what the heck let's give it a go..... and to my surprise I passed so I am now the holder of an American call sign KC2ZIL.
Ian also took the exam and went on to pass three in a row so he has gained an Extra Class licence and he in now AC2ES. Funny how things turn out.........